I'll post a detailed write-up and review when I finish the install, but so far I'm really happy with the new Pepwave MAX Transit Duo Cat12 router.
The biggest feature of this is the dual modems. Not just dual standby modems like my Cradlepoint.
My previous router had two sim cards mounted, Verizon and AT&T. The issue was that more than once, I found our RV in really marginal signal conditions. In a couple cases Verizon would work for a little while and then go offline and sometimes AT&T would work. The problem is, with a normal dual sim router it takes about 5 minutes each time to get out a laptop and reconfigure the router. (Since it takes so long to re-provision its not really useful to have an automatic fail-over, especially on fringe conditions.)
The new Pepwave solves that. It has 2 active modems and a total of 4 sims (each modem can have a backup).
So now I have configured the Verizon sim as the primary and whenever the signal goes out the AT&T sim is automatically priority #2. There are many other configurations possible such as load sharing on both sims and Wifi as WAN if you have a stable Wifi nearby. For my usage it makes more sense to have the Verizon do primary duty by itself most of the time.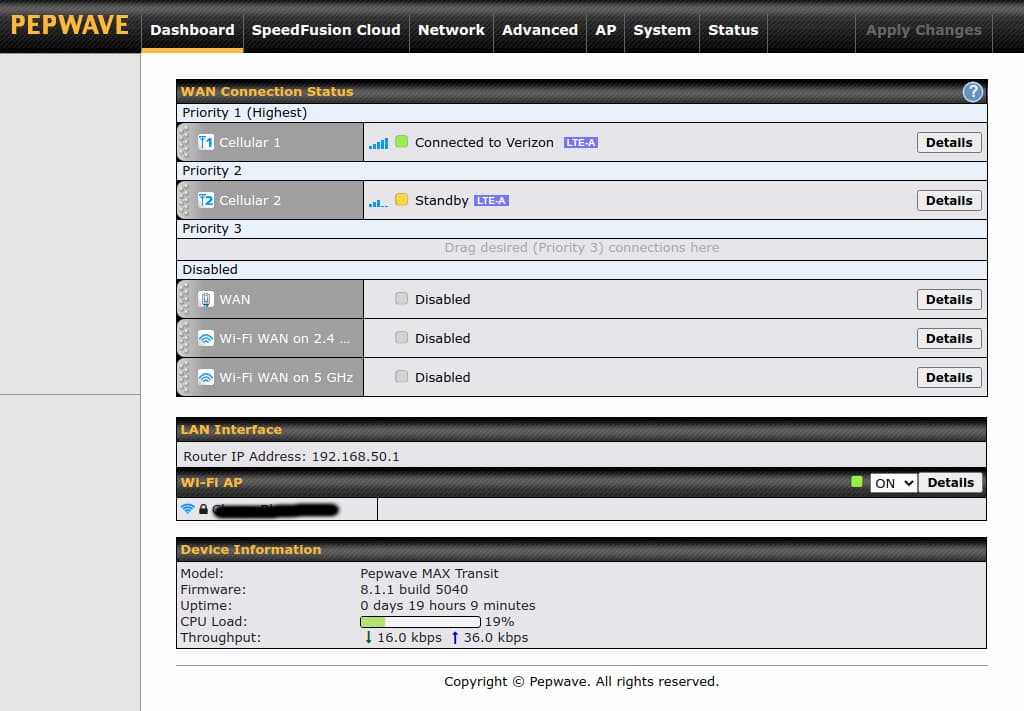 So far I have found Pepwave also a lot more fun to configure. While both Cradlepoint and Pepwave are designed for bigger commercial operations with trained IT specialists (think FBI van or commercial tour bus) the Pepwave interface is a lot more intuitive and enjoyable.
These things were formerly many thousands of dollars and just became (somewhat) more affordable. I have it partially installed. The next step is to replace the roof antenna with a Poynting 7-1 since it requires twice the number of mimo antennas now (4).
But so far this is turning our to be a really great addition to the internal quest for "home quality" Internet on the road.