Hello I am trying to find the fuses that are tied to the auxiliary battery and go to the charger for the RV batteries. The alternator is no longer charging the RV Battery. I am assuming fuse blown. SO i look up on Fuse-info.com And it showed all these different diagrams. Which one is my Auxiliary battery diagram based on image below of my fuse box image? Which # is correct fuse for the Auzillary battery charger?
I am having other electric issues. Looks like that where all the fuses are. Just trying to figure out which is which.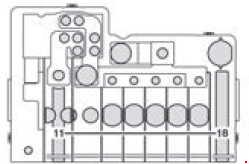 I am looking at the " Pre-fuse box at the base of the driver's seat (only for auxiliary battery) F59/8".
https://assets.mbvans.com/Mercedes-Benz-Vans/Manuals/2015/2015-Mercedes-Benz-Sprinter-Fuse.pdf
WHAT I. Am seeing looks nothing like what is posted there.. Here is what I am seeing.
Where are the fuse that are for alternator battery charge which I assume is the Pre fuse box?
ALSO How do I test fuse w/out having to pull out each one? Should I disconnect power? What about disconnect plug to Mercedes alternator? Thanks for he help?