Note: Some picture are in the process of fixing. This site apparently ignores EXIF data, so I have to manually modify all affected images.
Inspired by those who have come before me...GeorgeRa, asimba2, GraphiteDave, SprinterPaul, JJolls, and many others. These are great contributors and I have only taken bits and pieces that have otherwise mostly been done before. Like standing on the shoulders of giants. So let us begin...A VW-inspired layout with a 2 person bench seat able to seat and sleep four comfortably.
Part 1: Picking up the Van - Inspection and Back to Square One
Sept. 2016: After pining over Sprinters for several years, and searching for one somewhat seriously for about a year, I came across a van for sale in New Jersey that seemed to be about as good of a deal as I had seen. Nothing spectacular, but a solid looking NCV3 with under 100K miles and under $20K sales price. Anything on the west side of the country was going for probably several $K premium due to the high demand. It was a 2010, which at the time I thought was an advantage over 2007-2009 models (pre-DEF), because of the slight increase in engine specs, but the DEF is probably a complexity I'd rather not have to deal with. But alas, here we are and hopefully with all the latest components, we can travel MIL-free for years to come.
From the original ad: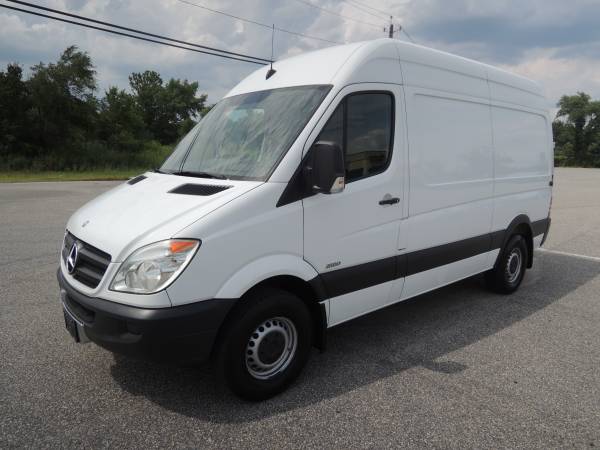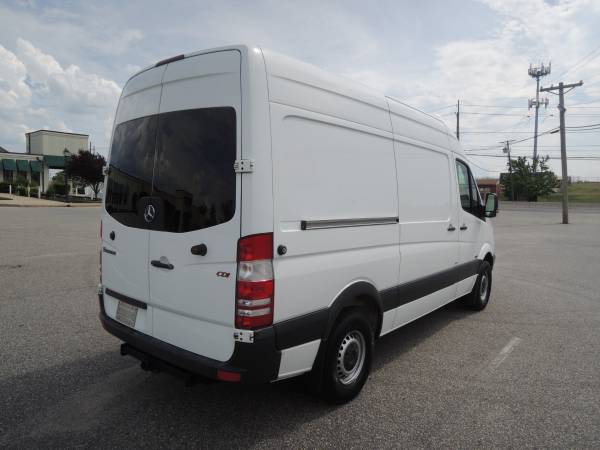 So we purchased a 2010 white cargo Sprinter 2500 144 high roof with rear door windows. This was $19500 and the van had 99K miles on it. You could maybe find a van like this for about $12K today. This was a work van that lived in New England early in its life, so it has a lot of minor rust throughout the body. Some of it was cleaned up, probably prior to selling, so it actually looked pretty clean. Three years later, some of it is starting to make a noticeable appearance and is currently being addressed. There were a bunch of old shelves inside.
Old racks and shelving from the rear: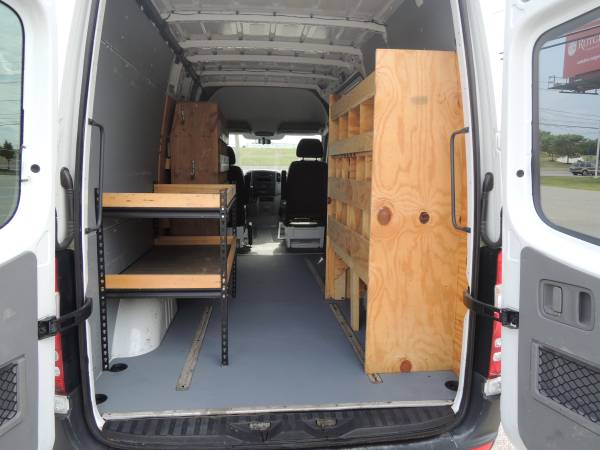 Old racks and shelving from the slider: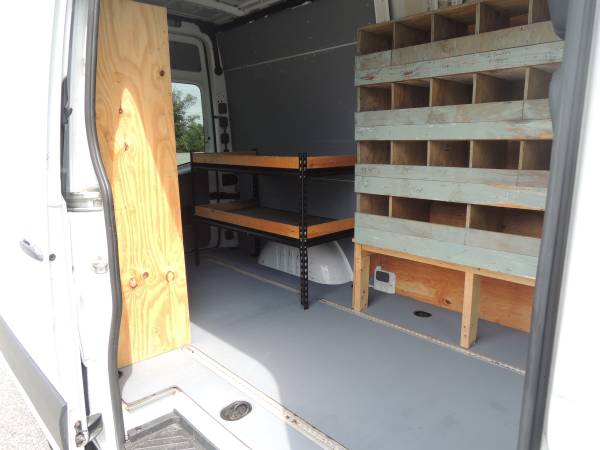 So I flew out to New Jersey to pick it up. My flight was delayed several times in Chicago, and barely made it in that night. The dealer stayed open until about midnight so I could get the van. At that point I was pretty exhausted, it was dark, and I wanted to just get going. So headed back on the 2200 mile journey back west in a completely unknown rig. Just a little stressful. But I had my sleeping back and Thermarest, so here we go. First night spent in a rest area off the PA turnpike, I76. The next morning, I had the MIL jump on and started what would become a long relationship through the first year of ownership.
At the time, I hadn't seen all of the DEF-related issues that plague these early AdBlue NCV3 vans. I also did not have a scannere with me, but I did figure it was emissions related and chose to just carry on and cross my fingers. It was a loud drive with the empty cargo van, missing plastic wall panels, and metal/wood racks rattling around. The engine felt good and sounded good, surprisingly quiet, especially for what I know of diesels. So, since I got a late start, I knocked the drive out solo in basically two 15-hr drive days. It was brutal, but I had to be back to work Monday. Other than the MIL, we made the drive back to SLC, UT and averaged about 18 or so mpg driving about 80 mph most of the way. Didn't seem too bad for a big tall van.
First I wanted to strip all of the racks out and clean up the van. It was a work van, and showed based on the 'roughed up' condition of the rear cargo area. Scrapes and dents here and there. Also getting all the maintenence up to date was high on the priority list. I wanted to get all of that sorted before starting into any type of conversion. If I needed to cut my losses due to unforeseen major issues, I'd want it to happen before spending $10K and hundreds of hours on a conversion. So we started with fluids, filters, and brakes. The brakes were not working well and needed to be fixed. And then we removed everything in the cargo area.
Shelving and racks removed: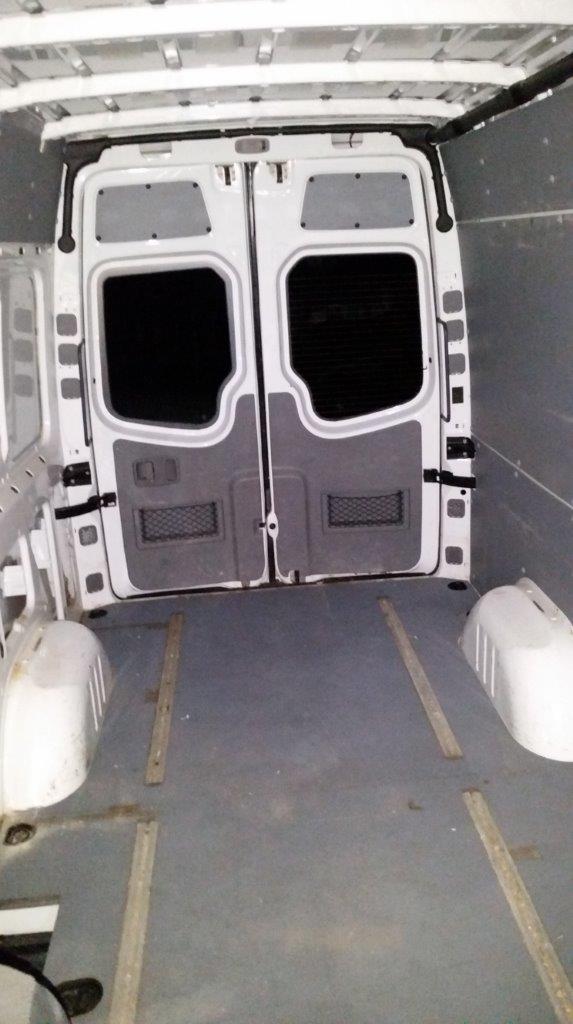 Getting started on the cleanup: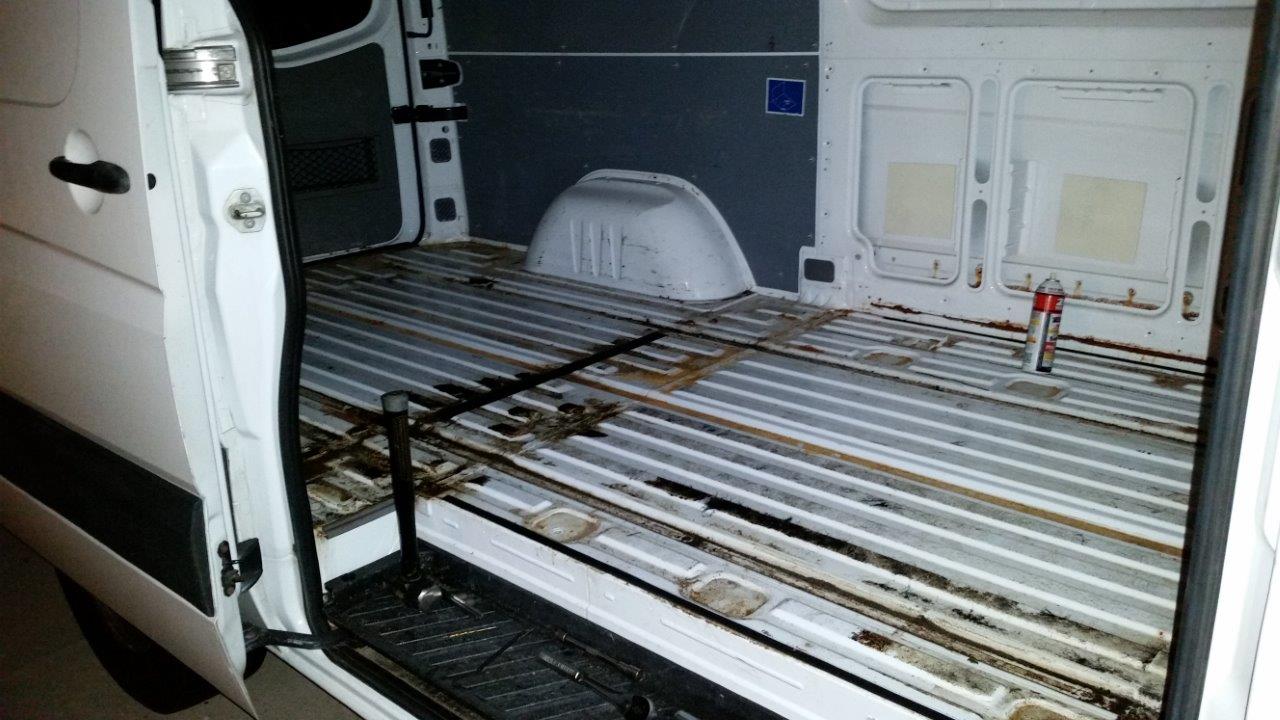 Last edited: