I recently upgraded my Unity TB's solar charging by adding three 100W GreeSonic flexible solar panels, particularly with help from the posting of others here on the forum.
However, the Sikaflex-221 that's commonly used and recommended as an adhesive for flexible panels on fiberglass roofs failed on me and I found out when one of the panels broke loose and flew off while on the freeway. On inspection, I found the remaining two panels could be easily peeled right off.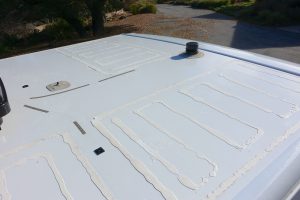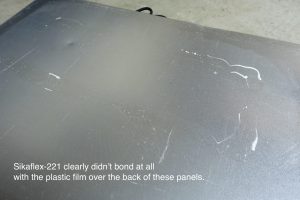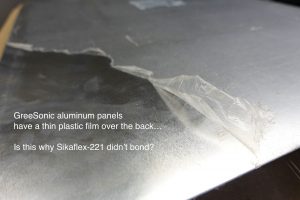 While the Sikaflex did bond well with my fiberglass roof, it did not bond at all with the backs of my GreeSonic panels. They're made of aluminum but covered in a thin, lightly textured, semi-permanent plastic film. It did not appear to be meant to be removed. I contacted GreeSonic about this film and for adhesive recommendations but they didn't give a very definitive reply:
"The plastic film on the back of the panel can be removed before installation. If you remove the film, the panel may turn out to be yellow after several years because of oxidation by sun and rain, but it still work. So you may just remove the film before installation.

You can use some more adhesive material such as 3M powerful tape to adhesive the panel. Of course, the best way is to use the four eyelets to fasten it."
I'm going to test Sikaflex-221 to see how it bonds on the bare aluminum (plastic film removed) using the damaged panel and I'll report back. Presumably the "3M powerful tape" they're referring to is 3M VHB tape. I'm not sure how well that would work in this situation but I have some and can at least test to see how it adheres to the back of the damaged panel (with and without the film).
I've got more detail and pictures of my installation and my thoughts on what happened on my web page:
http://crimdom.net/rv-upgrades-and-customizations/#panel-adhesive
I mostly wanted to be sure to warn folks to be careful with their usage of Sikaflex but here's some other questions that perhaps some can help answer here:
1) What adhesive does LTV use on the GoPower Flex100 panels they install?
2) If you installed flexible panels, what kind of backing did they have and what adhesive did you use?
3) Does this purported yellowing of the panels make sense if a film is removed from the aluminum backside?
4) Any other adhesives I should test for bonding abilities with or without that protective film?
Last edited: