Finally finishing up my list of upgrades to my Unity MB. I have been waiting for some parts to complete my cellular data system in the Unity. This solution is not cheap, all up close to $900 in parts but it really works well. Compared to options like $2,700 aluminum wheels I think this would be much more valuable to most folks who like to be "connected" most of the time.
I am using a
CradlePoint COR IBR600
series compact modem/router. This a high quality M2M router/modem that is available in versions supporting Verizon, ATT, Sprint and T-Mobile. The modem/router has MIMO antenna inputs for both cellular data and WiFi. It has many features but one valuable feature for RV's is the ability to do WiFi as WAN. This enables you to snag a distant WiFi signal with an external antenna and rebroadcast it locally in the RV as a strong WiFi signal. I mounted the IBR600 in the upper rear storage cabinet off the bathroom in the Unity MB just below the externally mounted antenna. If you have a data account with a cell phone provider all you need is a standard sized SIM card associated with that account to use the IBR600.
The IBR600 has a LAN ethernet plug so it can be used in your home as a full service router with LTE cellular data backup to your home WAN connection when not being used in the RV. To make it into a multi-port LAN just add an ethernet switch box. It comes with cellular/WiFi "rabbit ear" antennas that you can attach directly to the router when not using external antennas.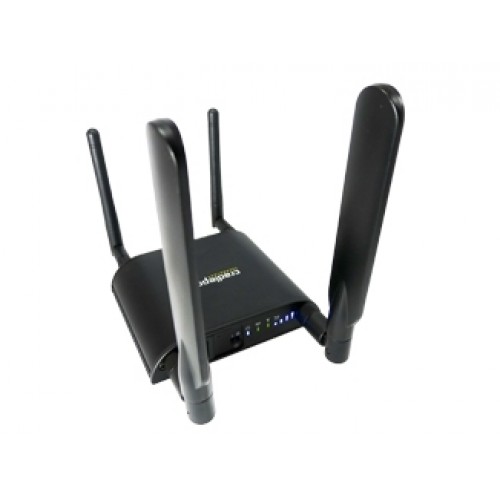 Here is the COR IBR600 in the rear cabinet. Unit comes with a quick disconnect cradle so it can be popped in and out easily for use at home when the RV is being stored. I left the antenna leads a little longer than needed just in case I decide to mount it differently in the future.
I decided to use the
MobileMark BLACK Multi-Band 5-Cable Antenna
. Main reason to use this antenna is that it includes both cellular and WiFi MIMO antennas in one head unit. This unit will require at least an 8" ground plane to be used on the Unity composite roof. Here is how the antenna looks on the Unity roof with the ground plane. It requires a 7/8" hole to pass the 5 antenna cables through to the cabinet below. It is a very low profile antenna so it is not likely to be snagged by tree limbs. Having externally mounted WiFi antennas gives full signal strength inside the Unity while allowing mobile devices like iPhones use the WiFi connection up to several hundred yards from the Unity.
The MobileMark antenna comes with 15' antenna leads using RF-195 cable. While RF-195 is a low loss cable it still suffers a loss of .17 dB per foot at higher frequencies, so you want those cables to be as short as possible to have the highest signal strength possible at the IBR600. To shorten the cable you will have to source 2 each
SMA Male
and
RP-SMA crimp plugs
. The tough part is that those little SMA connectors need a special crimp tool. Center connector needs a crimp of .039" while the ferrule needs a .213" crimp.
Here
is a cheap tool to do the .213" crimp and
here
is a tool to do the .039" crimp. If you look around you might find one crimp tool with both dimensions in the same tool.
I have been using a setup up similar to this in an EarthRoamer since 2011. As a matter of fact I was a beta tester for the first IBR600 when it was released. So I have a lot of experience using this equipment in deep fringe reception areas in the western US. In the EarthRoamer we were often far "off road" it was very rare we did not have any signal. The COR IBR600 will gracefully downshift from LTE to 3g to 2G/Edge as conditions change, so even in the bush I often could get text messages in and out many times when other folks could not get any service.
Last edited: