Bought a used 2002 158" a few weeks ago. It had an expeditor package installed from stoops freightliner in ohio. It has an inverter, second battery, and roof vent already installed. I've been to Doktor A for a checkup and its surprisingly free of rust. Looks like it was repainted at some point but it is a sprinter so of course its got some rust spots. I've been reading lots of stuff on here and found tons of good info so far.
I'm not going to make this a true RV, no shower, no bathroom, no water system, no rear ac. Just want to get it set up with a bed, storage, stove, heater, some windows, fridge, and insulate it, maybe add a makeshift sink, and then add as i need over time.
Things i have done so far
-new windshield from a high quality glass shop
-new cabin/ air filters
-Changed rear diff oil
-new rotors and pads all around
-parking brake adjustment and grease
-new 150a alt (cant believe this was not upgraded from the dealer who put the house power in)
-new belt
-replace climate control lights
-exhaust repair to pass inspection
-took apart sliding door lock mechanism and regreased it so it works and closes easily
-wired in a different stereo head unit that actually works
Outside...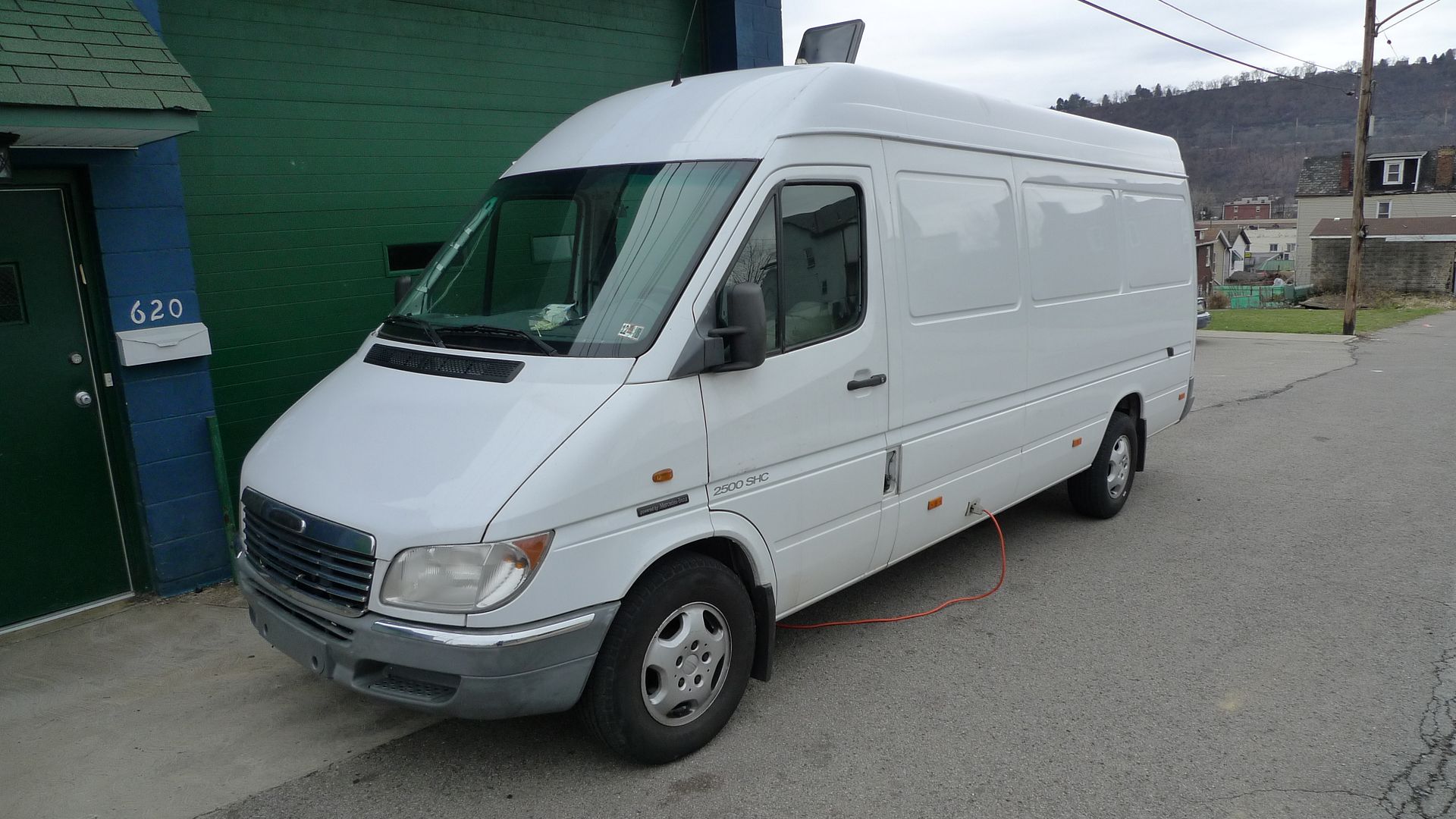 Old inside...
I started the conversion by taking out the partition/bulkhead, cabinets, bed, and stripping out the electrical outlets and fiberglass insulation from the walls and ceiling. I also took apart the doors, headliner, and removed the seats to fix some rust spots under the seats caused by a leaky windshield. I decided on prodex foil faced foam insulation for the base layer of insulation against the metal. I am adhering it using v&s 1081 spray adhesive. So far i have only used it on the pass side of the cab and the sides of the high top.
These photos are from yesterday, today i took out the drivers seat, sanded, used naval jelly on the rust, and primed it using a self etching primer. Will hopefully insulate and button up the cab and reinstall the seats tomorrow.
has anyone ever used a bug bomb inside their van? There are lots of stink bugs in this van. I've already removed a ton with a vacuum but i assume theres a bunch hiding out inside the dash and i'd like to wipe em out before i start building stuff inside.
How much of a pita is it to remove the floor? I wanted to put prodex under there but i'm not sure its worth it to drill out all the rivits.