1/18/2020: Glow Plug #5 Replacement Write-up
A few weeks back, I started up the van and noticed the glow plug came back in after starting, followed by the CEL.
Pulled out the scanner, and sure enough, we had an active error code of P0675, indicating an open circuit on glow plug #5.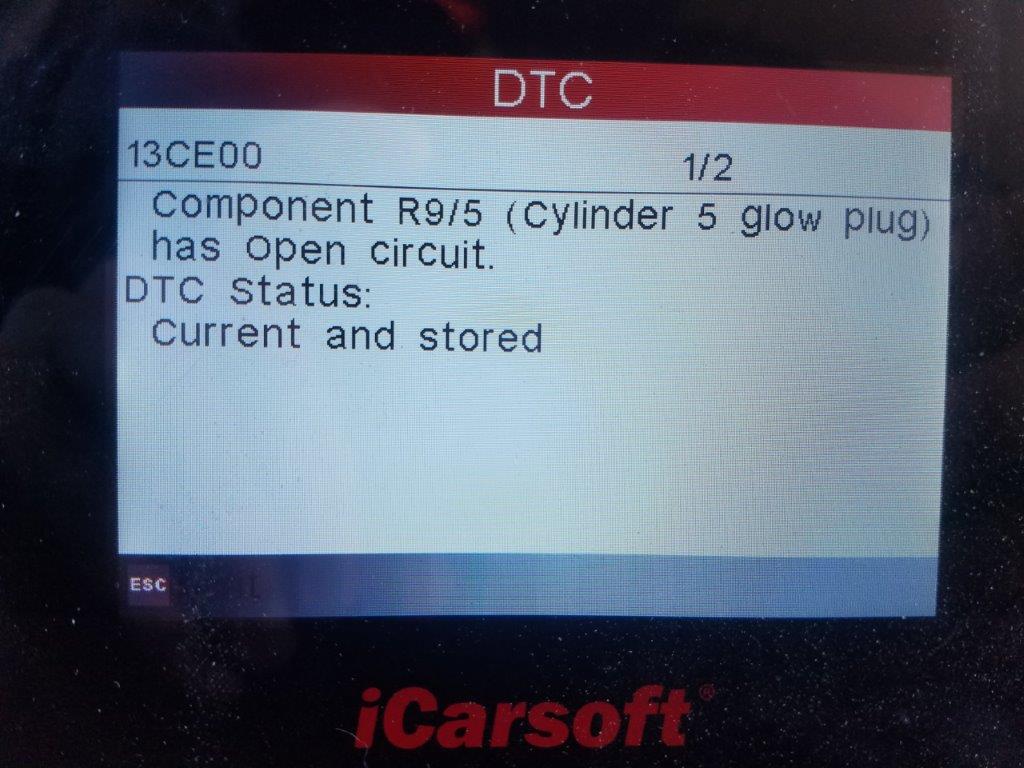 Of course, the first thing I do is consult the sprinter-source forum as I recalled many related threads with good info on diagnosis and repair.
After reading through a couple threads with different failure scenarios and questions of ceramic and steel plugs/modules, I pulled out the camera and multi-meter.
Dennis is always a help to figure things out...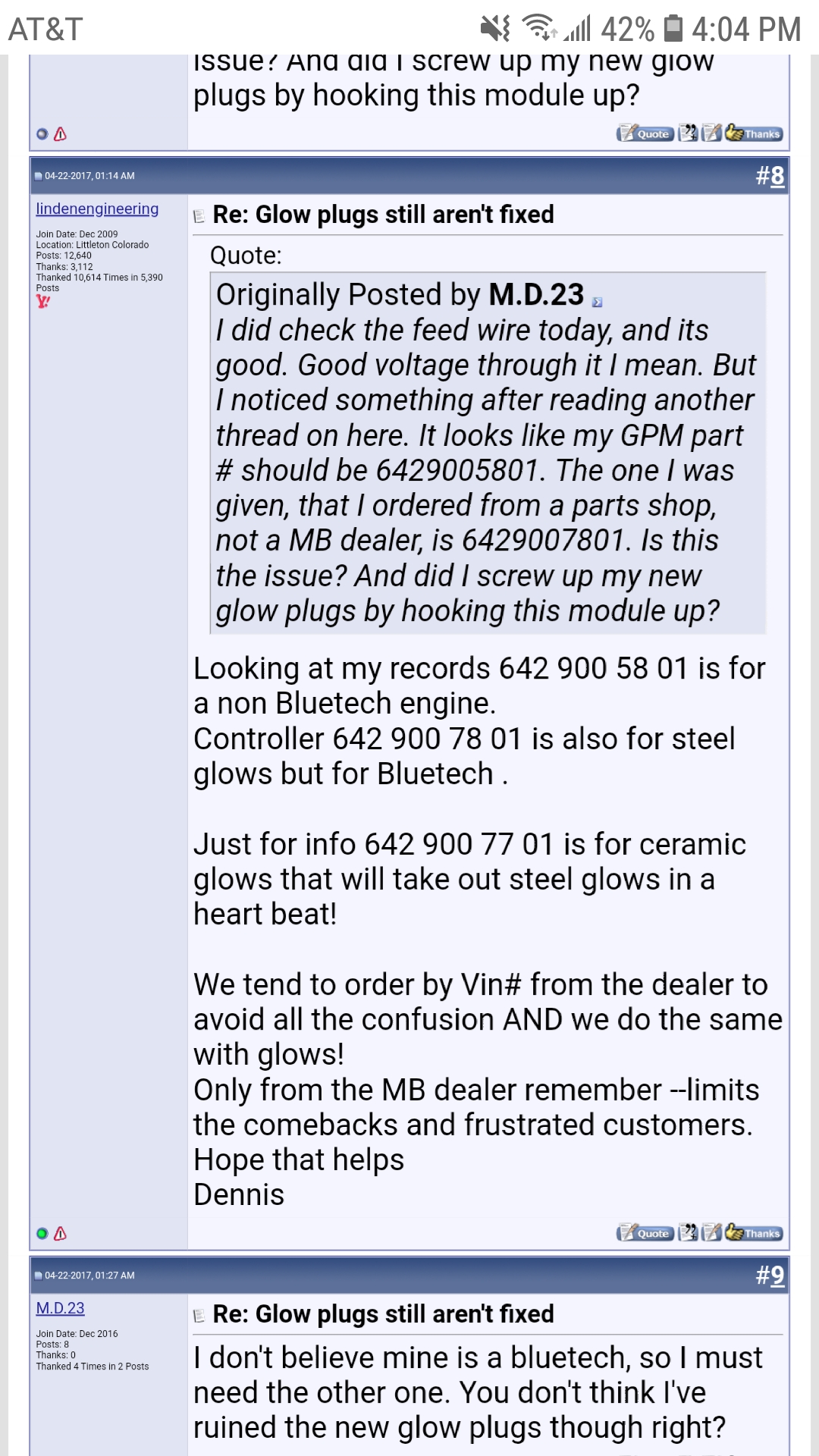 Glow Plug Module to see the part number to confirm which glow plugs I have: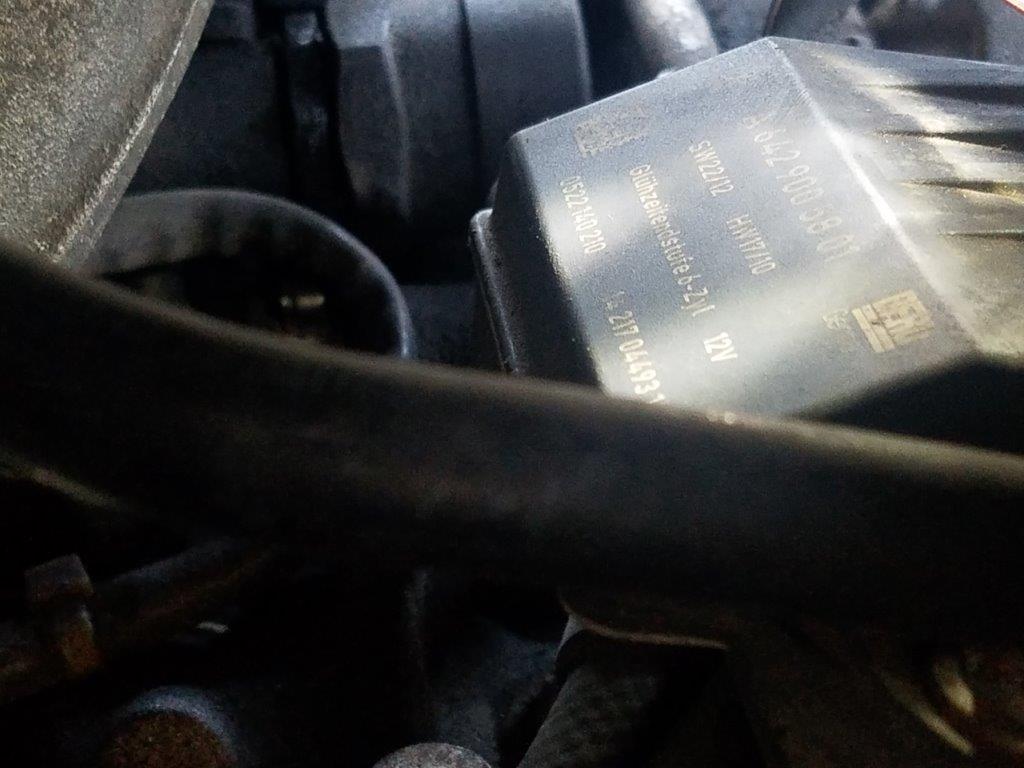 I wasn't keen on needing the dealer to tell me whether I had ceramic or steel glow plugs/module, which is apparently possible with the BlueTech Sprinters.
So I used the light and camera to snap a picture of the control module, which should tell me which ones I'm dealing with.
Then, pulled off the multi-pin connector to ohm out the plugs and verify the #5 open circuit. Sure enough, one by one, 0.6 ohms for #1-4, and #6, but #5 was showing OC, so the problem was confirmed.
I verified the module number, which confirmed I was dealing with steel glow plugs, and then went to my favorite online euro parts place, autohausaz.com, to order up a spare.
The good plugs are reading 0.6 ohm:
But #5 is a full open circuit: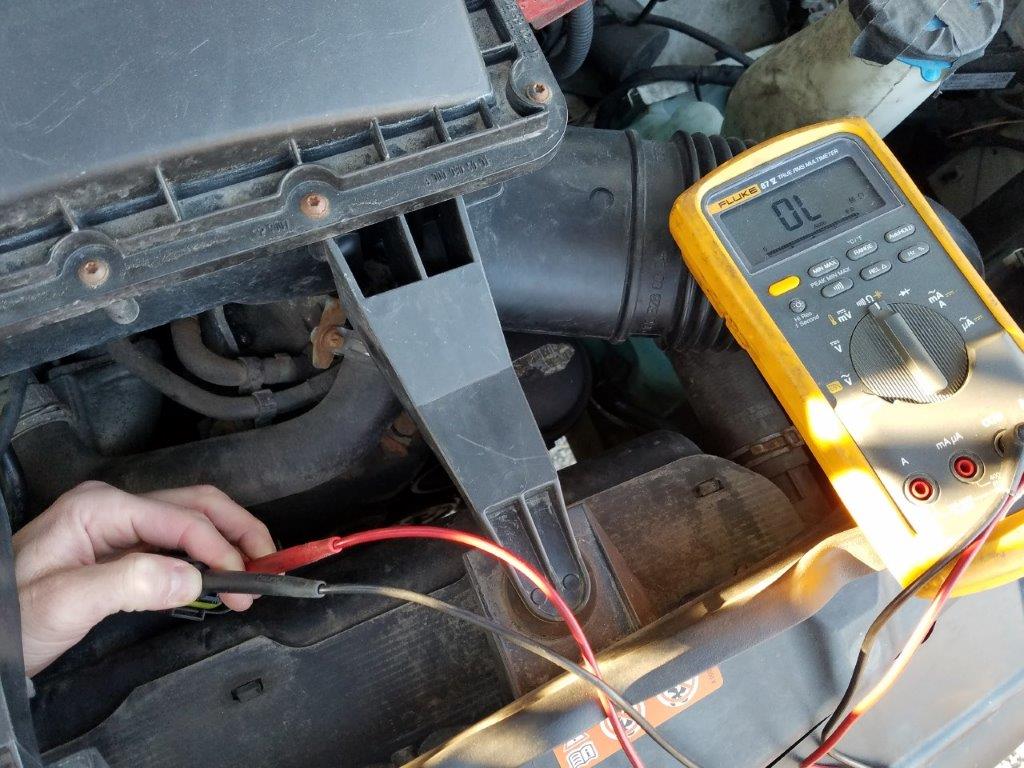 Ordered and received Bosch glow plug 0 250 403 008, Made in France, came with code to verify authenticity.
Fresh Glow Plug: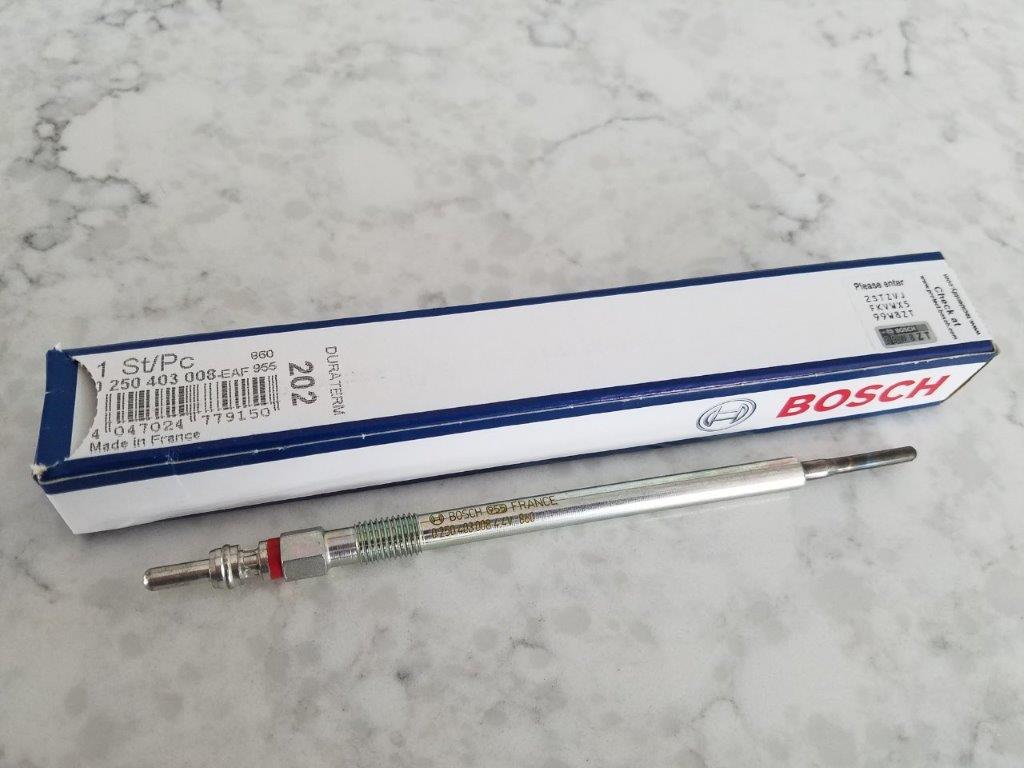 I thought about getting more than one, as ths shipping costs can be amortized, or even eliminated, if I bought $75 worth of parts. But often, I end up doing that only to have spare parts sitting until I eventually retire or sell the vehicle. Not this time, just one for about $25.
The module part number was A 642 900 58 which apparently was pre-DEF NCV3 vans, but mine is also an early model, 2010, so may just be normal.
I got the replacement glow plug but had to wait out some weather as we got about 3 feet of snow followed by rain over Thanksgiving holiday.
Research suggested taking them out when warm, doing a pre-soak with your favorite penetrant (PB Blaster, Kroil, etc.), blasting any debris from the vicinity so it doesn't drop into the hole or get into the threads.
So after taking a few things apart, I had the glow plug connector free: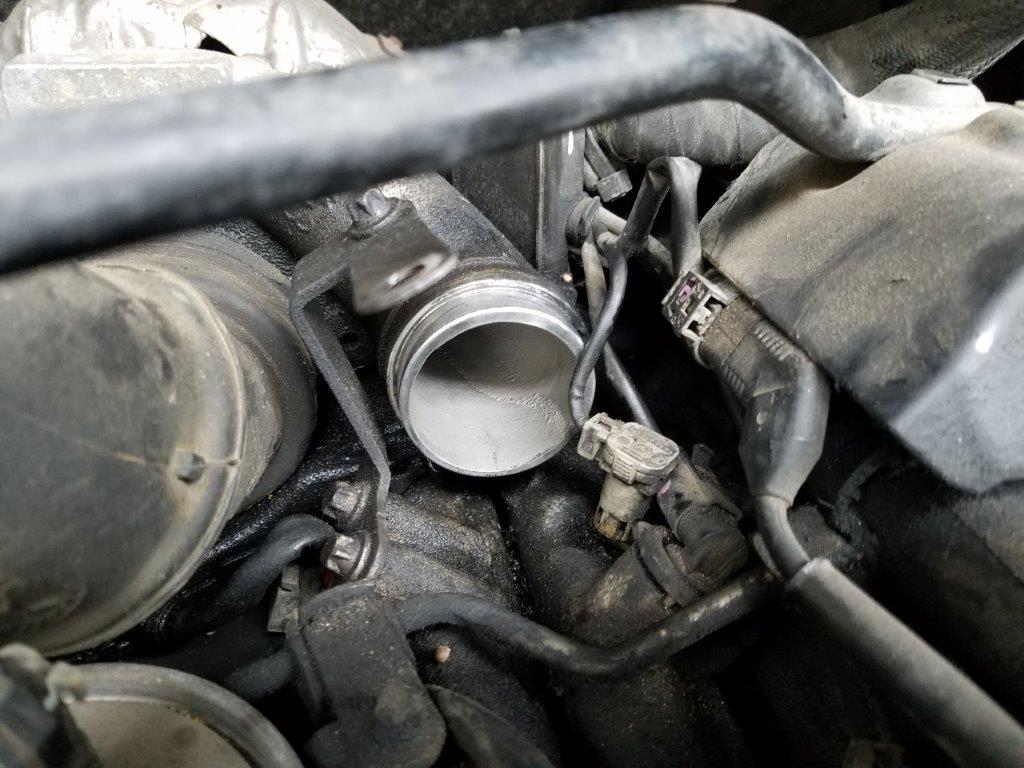 This #5 was looking pretty oily upon removal?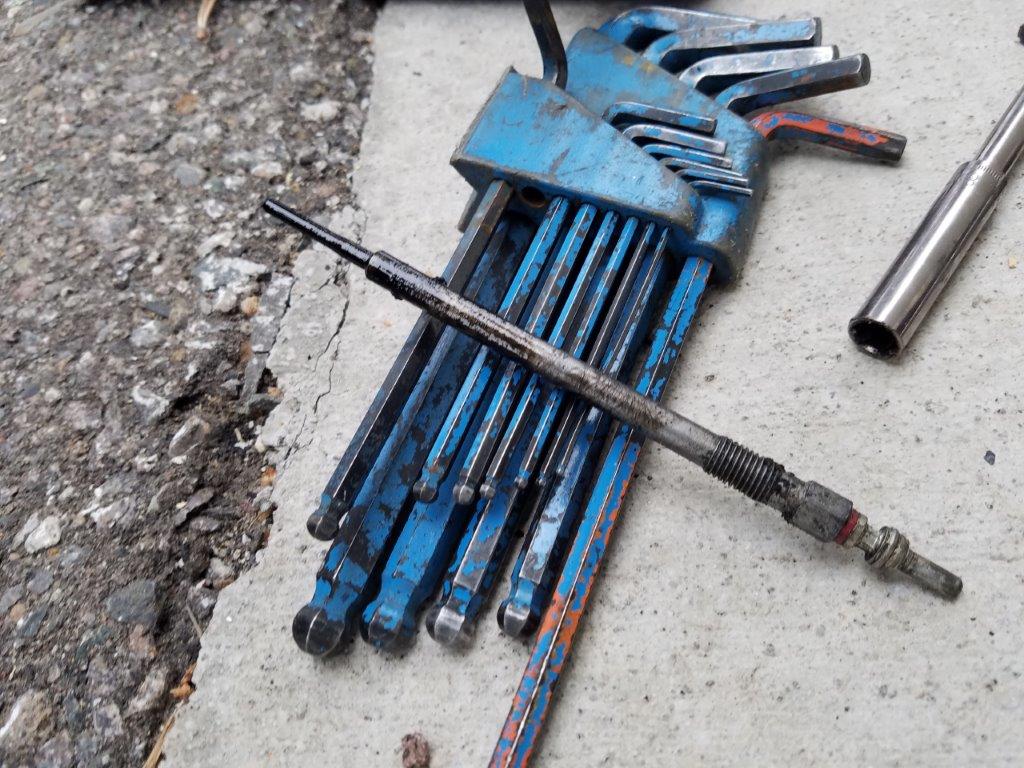 So it turns out that coincidentally #1 went bad at some point after #5, so a week or two later I pulled the cover from the passenger side of the engine. This was also pretty easy to replace, but the most difficult part was the wiring harness was sitting on top of the CP connector. And with as stiff as the large bundle is, it took some persuasion to get enough wiggle room to pry up the connector. I just used a flathead screwdriver which worked but was far from elegant. And I bought 2 plugs this time, so I am sitting on a spare now. But now all the codes are gone and no warning lights.
Codes confirmed by another resistance check like before: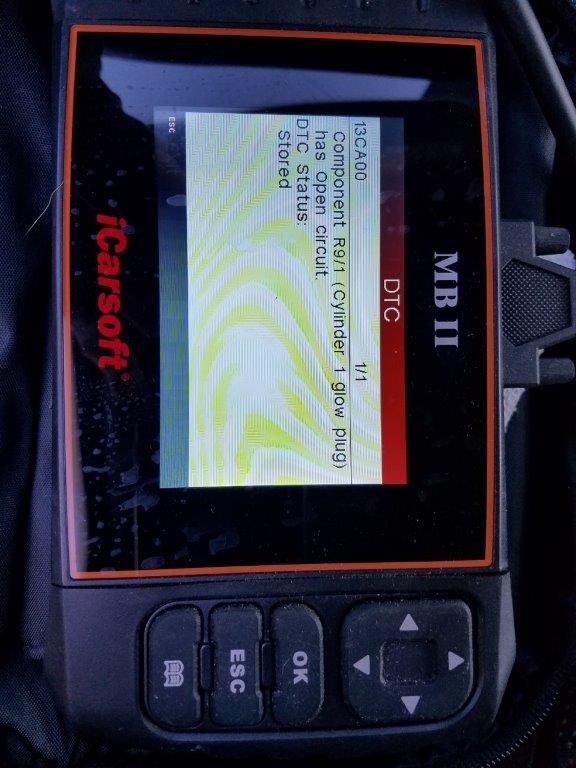 Not a full open circuit like #5, but at 1.9Mohm, something isn't right: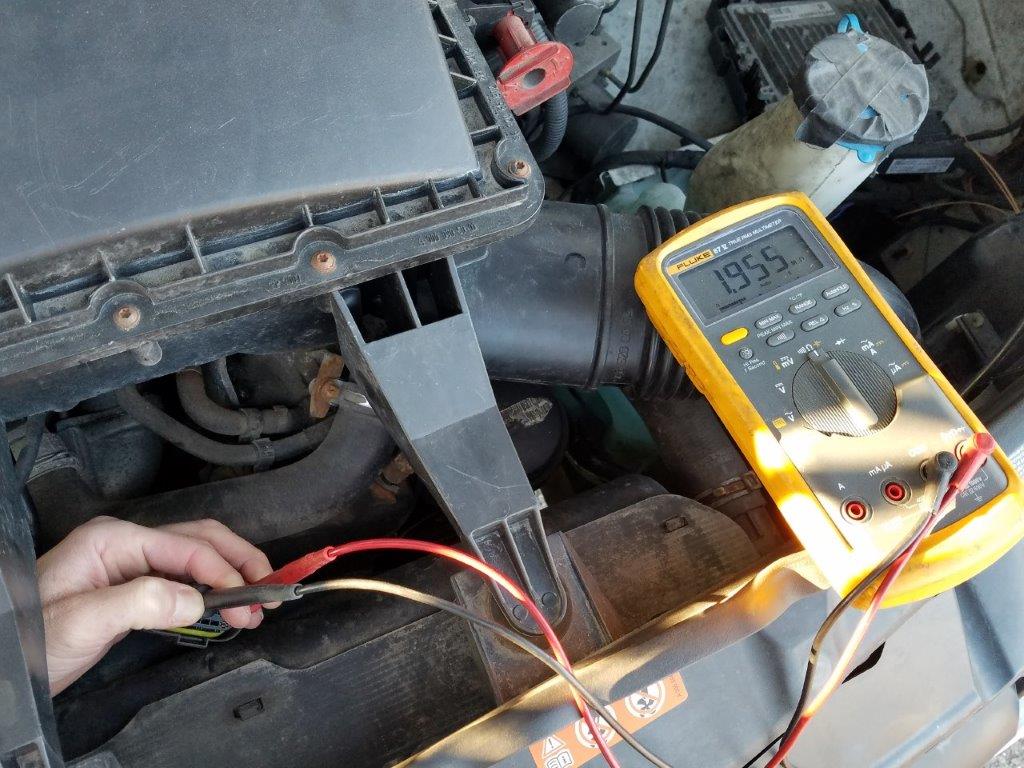 View of the top of the engine with covers removed: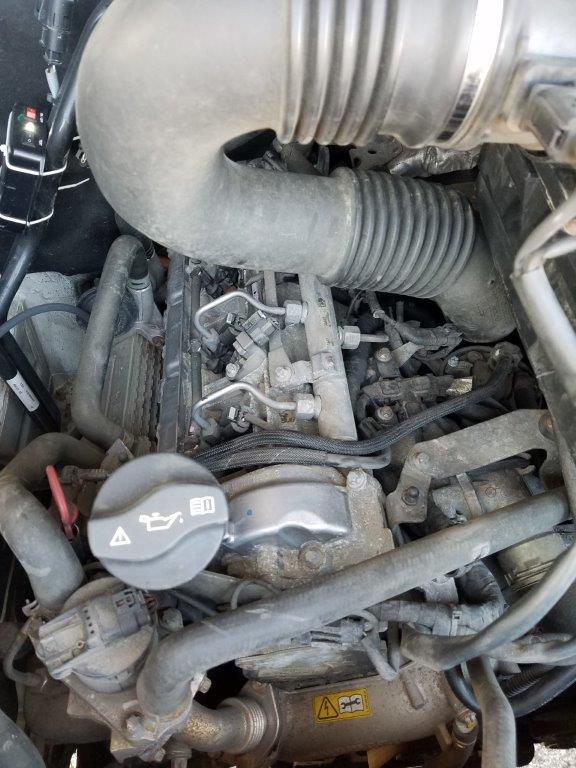 Old and new #1 glow plug. Wasn't any oil on this one like I saw on #5.